Company COVID-19 Information
Telecentral Electronics Inc. will continue to operate as our company provides service to critical infrastructure, namely radio stations that provide news and emergency information to the general public.
However we are making the following adjustments to our operations:
Visits to studio facilities where other people might be present will only be done for off the air emergencies that cannot be resolved by remote control. Transmitter site visits will be unaffected as by and large, they are unattended sites with no human presence.
Home of Telecentral Electronics, Inc.
We specialize in AM and FM Radio Broadcast contract engineering, serving the Wilkes-Barre/Scranton area and nearby communities
Services
Routine Maintenance with payment plans to suit your needs, either flat rate labor contracts or by the hour billing.
24/7 Emergency Service, with wireless phone access to our engineer
Transmitter and STL Installation
Studio/Control Room Installation
Web Hosting and Web Broadcasting
---
Current Clients
Wilkes University, WCLH Wilkes-Barre 90.7 MHz
Columbia Broadcasting Company, WHLM Bloomsburg 930 KHz, WHLM-FM 103.5 MHz
J.M.J Radio Inc., WQOR Olyphant 750 KHz. WAZL Hazleton 1490 KHz.
WUUA Glen Spey NY 89.5 MHz.
---
Recent and past projects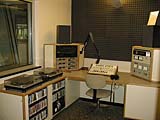 2001 New On-Air studio for WRKC.
This college upgraded their student union building and wanted to make their radio station a major feature of the facility. New furniture, CD players and on air console were purchased, other equipment was refurbished. Click on the picture for a full screen view.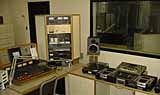 1999 Rebuild On-Air studio for WCLH.
Here is an example of a facility that we were able to refurbish on a limited budget. Although WCLH had some equipment in pretty good shape, the rest of the facility had been around a long time and had seen hard use. We rebuilt as much equipment as possible and replaced only where needed. The result can be seen to the right, click on the picture for a full screen view.
1992 Rebuild On-Air control room for KPFK. Completed a month late due to equipment delays, but within budget.
---
About the President of Telecentral Electronics, Inc.
Robert D. Reite got started in the broadcast industry while living in the Los Angeles area. He got his First Class Radio Telephone Operator license in 1979, and still holds the lifetime General Radiotelephone license. Robert obtained his first amateur radio license in 1964, and now holds an Extra Class license under his California call sign, WB6YYZ. Robert moved to the Wilkes-Barre/Scranton area in 1993, to escape the crime and pollution of the Los Angeles metro area with plans to semi-retire, but Wilkes University needed someone to fix up WCLH, and Bob was back in broadcast. Robert is a member of the Society of Broadcast Engineers and a Certified Broadcast Technologist.
---
Contact Information
Robert D. Reite
Telecentral Electronics, Inc.
1100 Schooley Ave.
Exeter, PA 18643-9328
570-655-2880
To reveal our email address, click on the three periods >> ...@telcen.com
You must allow popups from www.google.com for this to work.

Looking for the archived Reite Audio web site? Click HERE